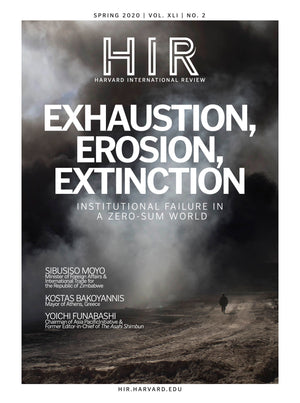 Harvard International Review
Volume 41 Spring 2020
Sale price Price $9.95 Regular price
Volume 41 | Spring 2020
Shipping from March 31st, 2020
Launched in 1979, the HIR is the premium print publication devoted to incisive commentary on global developments in politics, economics, business, science, technology, and culture, as well as interviews with prominent global leaders.
Published quarterly, the four issues are bookish, beautifully printed and collected to be displayed on coffee tables and bookshelves.
The publication is 84 pages, perfect bound, and printed in full color on FSC-approved soft-touch laminated paper in the United States.
To purchase a subscription, please visit
our subscription portal
.
Get to know the world.